There's a lot of confusing information out there about COVID.
Back in the spring, Canada's Chief Medical Officer told us masks weren't needed, and now many places around the Skeena require you to wear one. We hear in the news about people in BC getting fined for throwing huge indoor parties. And yet this month we're sending kids back into classrooms. More people than ever are infected with COVID, but far fewer of them are dying. How do we connect the dots?
Got a question you want answered? This Thursday Skeena Strong is hosting a live web-event with one of Canada's foremost infectious disease experts.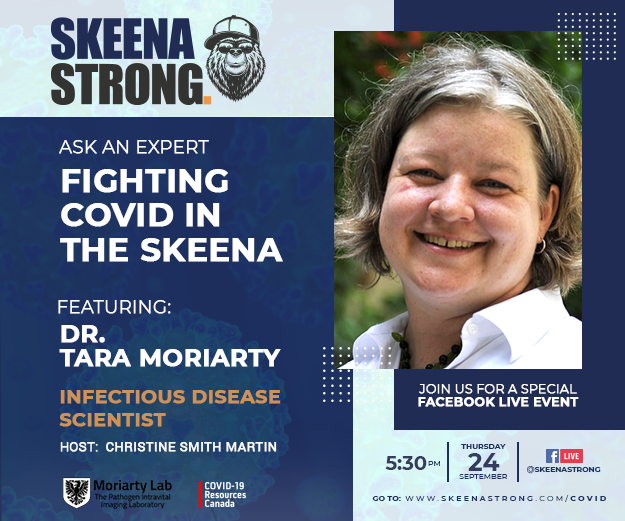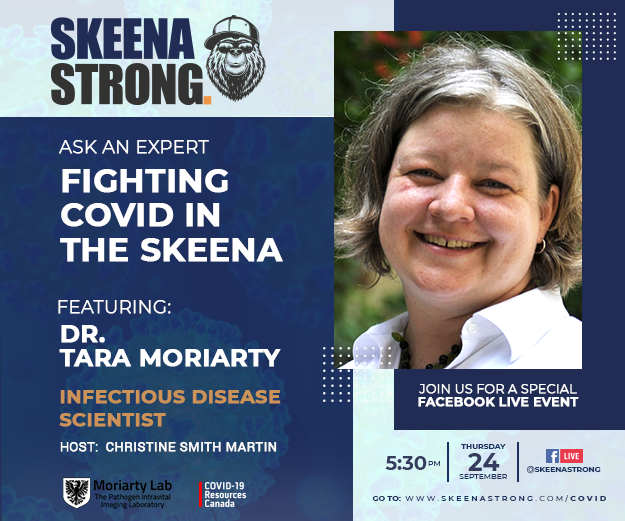 "Fighting COVID In The Skeena" will run from 5:30pm to 6:30pm and features Dr. Tara Moriarty from the University of Toronto's Moriarty Lab and the COVID-19 Resources Canada and host, Christine Smith-Martin, from the Tshimshian and Haida nations.
Moriarty and Smith-Martin will break down the confusion about what COVID means for the Skeena and, with the assistance of Dan Mesec, they will answer questions that may have been lingering for you ever since the pandemic began.  
Dan Mesec from Skeena Strong, will on the panel as audience monitor, sharing comments and questions from the audience Facebook feed with Moriarty and Smith-Martin. In addition, there will be a half dozen scientists and experts from the Covid-19 Resources Canada network on the Skeena Strong Facebook comments thread answering questions and sharing information in response to the conversation.
Learn more about the event here.