Smithers – Hereditary Chiefs and community leaders are condemning the hanging of a confederate flag over Main Street in Smithers on Saturday morning.
The flag, which was hung near the intersection of Main Street and First Avenue, was discovered and reported to the Town of Smithers by residents early Saturday morning. It was quickly pulled down, but not before causing a stir in the community and drawing outrage from Wet'suwet'en Hereditary Chief Woos (Frank Alec).
"I find no reason to believe that the residents of Smithers would support such an idiotic act, we are building a better relationship for the sake of our children. Collectively, as a community, we condemn this cowardly act," said Chief Woos in a press release from the Office of the Wet'suwet'en.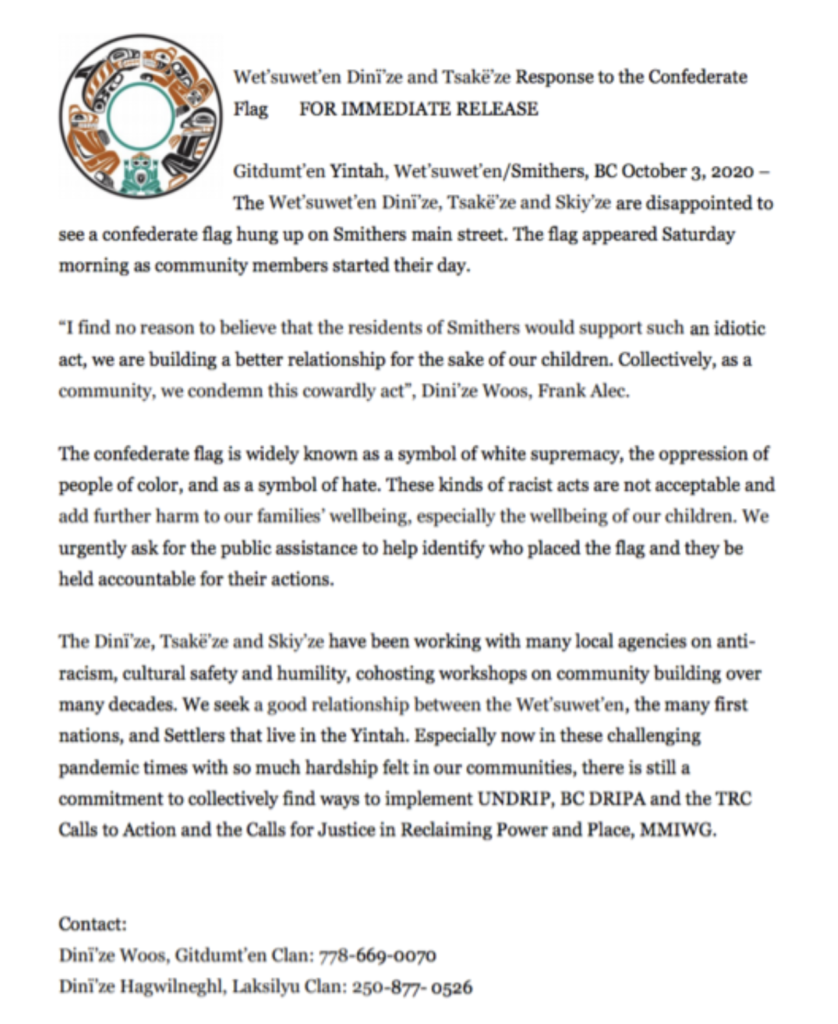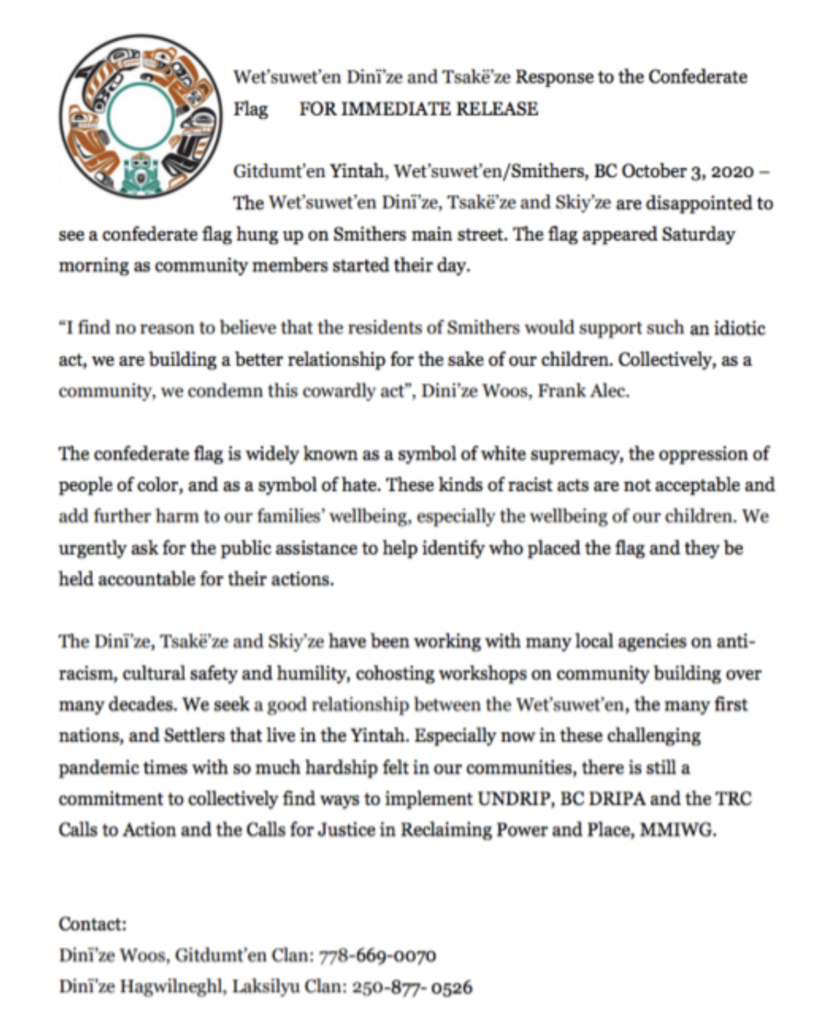 According to the release, the Office of the Wet'suwet'en and hereditary chiefs "have been working with many local agencies on antiracism, cultural safety and humility, cohosting workshops on community building over many decades. We seek a good relationship between the Wet'suwet'en, the many first nations, and Settlers that live in the Yintah."
Acting Mayor of Smithers, Casda Thomas was also quick to denounce the raising of the confederate flag on Main Street and express her support for the Hereditary Chiefs.
"This Saturday morning, a confederate flag was found hanging on Main Street. It was swiftly removed, but it happened," wrote acting Mayor Thomas in a statement to Skeena Strong.
"The flag is a symbol of hate, racism and white-supremacist movements. This does not represent our community. However, we need to recognize that racism can be found anywhere. I stand with the Office of the Wet'suwet'en and the community as a whole, in strongly condemning this action and calling on us all to take a stand against racism."
The act also caught the attention of a local business woman who wants to see an investigation immediately so those responsible can be held accountable.
"I would really like to see motion past words, especially in regards to a confederate flag being hung downtown Main Street in Smithers. Unacceptable, but what are we going to do about it?" said Amy Brandsetter, owner of Sedaz Lingerie.
"I'm going to say that I will give the first person who brings me the confederate flag hangers name and some proof, $500, because I would love to see that person do community services and actually have to feel shame for the discomfort and disrespect they impose on other people for the most ridiculous symbolism."
In a Facebook post Skeena-Bulkley Valley MP and former Mayor of Smithers, Taylor Bachrach also expressed his dismay about the flag being raised and noted it isn't something new, having dealt with the same situation twice before while he was mayor.
"I'm extremely disappointed and saddened to hear that a confederate flag was hung across Main Street in my home community this past weekend–something that happened twice when I was mayor," Bachrach wrote. "This symbol of hate and white supremacism should have no place in our communities. I join Smithers' acting mayor Casda Thomas and Chief Woos of the Wet'suwet'en in denouncing this behaviour in the strongest possible terms."
Although there are currently no suspects, Smithers RCMP confirmed they are investigating.
The confederate flag is associated with white supremacist movements, and originated with the pro-slavery Confederate Army in the U.S. Civil War.