This is Brandi.
Brandi Collins has been working in kitchens since she was 16. Starting off as a dishwasher and prep cook at the local golf course where she grew up, Collins quickly developed a passion for creating amazing meals out of locally inspired ingredients.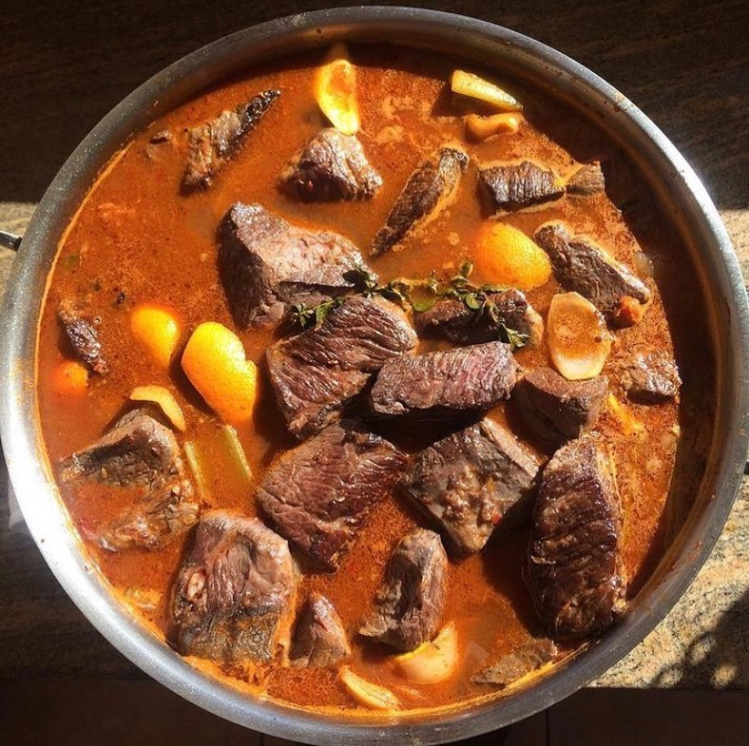 After completing culinary school in Vancouver, Collins ended up working at Langara Island Lodge on Haida Gwaii. The years that followed had Collins working a kitchen circuit of sorts throughout BC, cooking in restaurants and hotel kitchens in Whistler, as well as with Frontier Farwest, a fishing lodge along the Bulkley River where she has cooked seasonally for nearly a decade.
A few years ago Collins and her family decided to settle in Telkwa, still working the circuit, spending part of the season cooking for visiting anglers and the other half of the season catering and cooking office lunches. But in 2019 the business seemed to be taking on a life of its own.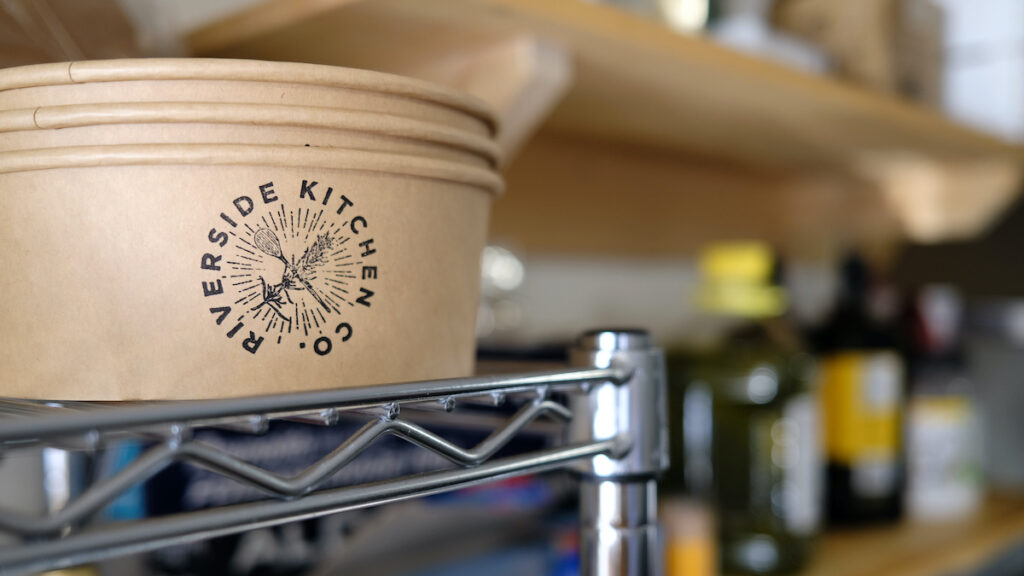 "I was pretty busy doing the fishing lodge thing but as the season was getting smaller and smaller I was getting more into weddings, and that's how Riverside Kitchen evolved," Collins says. "About a year and a half ago we decided we should probably stop renting kitchens and hauling my stuff everywhere and make something permanent, so it happened pretty fast."
At their property on the banks of the Bulkley River, Collins and her husband decided to build a specially designed kitchen for her growing business. The nondescript building is a place of constant activity, drop offs of local ingredients, pickups of prepared food and of course Collins working to keep up with orders that have ballooned over the past year.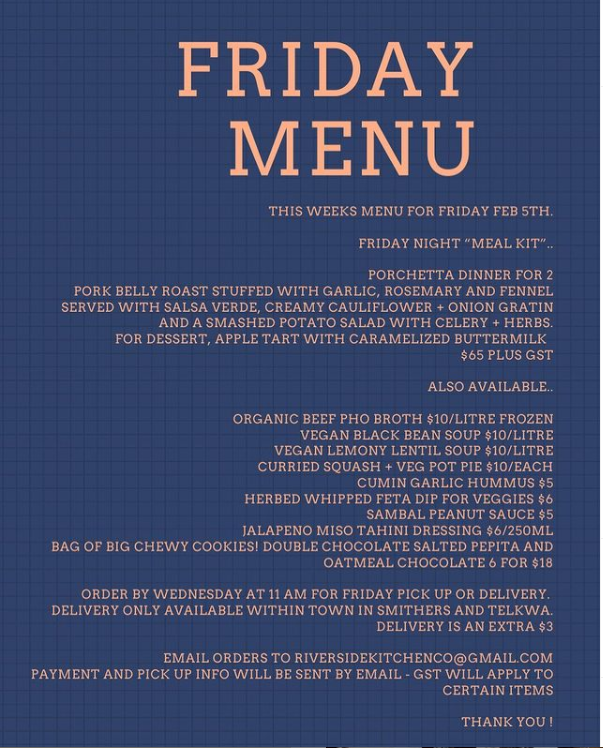 "Literally a year ago Riverside Kitchen was a granola company, I was driving around delivering bags of granola to people's houses. I was also making soup and dips and then quickly got on the radar of the Green Zone Grocery Store in Burns Lake and they became my first weekly retail customer," Collins explains. "Now in the last year we have four retail spots and it feels like a real accomplishment."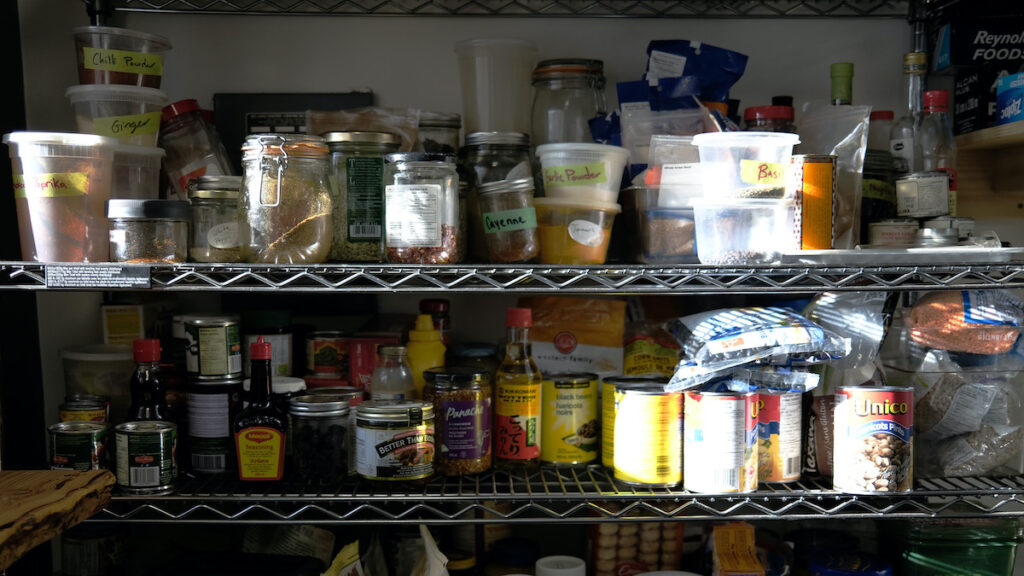 Running a business at the best of times can be challenging, doing it through a pandemic is something else. Entre the power of social media. Collins credits Instagram in helping her business flourish in the midst of a pandemic, transitioning from granola to full on readymade meals.
"I honestly have to thank Instagram, it's a total Instagram business," Collins says. "I'll put a menu out at the start of the week, people email their orders in whether it's soup or a full catered dinner for two and on Friday they can pick them up, it's pretty awesome."
Before COVID, Collins also offered full at home catered dinners, utilizing produce and meat from local producers like Joe Hug and Manfred Wittwer. Although things have changed with physical distancing and small social bubbles, Collins still provides charcuterie boards, fully prepared meals drop at your doorstep and prepared lunches that can be picked up at local partners like Bugwood Bean in Smithers.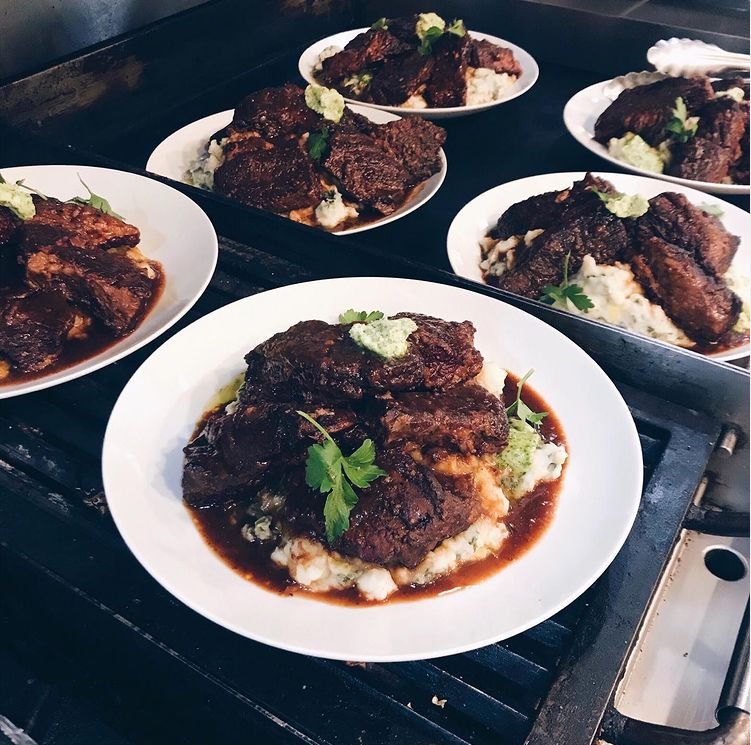 Due to her vast experience, cooking everything from Mexican carnitas to gnocchi to lavish soups, Collins says there are no rules to what the Riverside Kitchen can provide, allowing her to try new things and create meals her customers love, connecting with people from all walks of life. In short order Riverside Kitchen is quickly becoming a household name within the gastronomic industry in the Bulkley Valley and elsewhere.
"After getting my name out there and seeing the increase in followers on Instagram, the business is reaching a lot of different people in Smithers" says Collins. "I find we've really broken into the market of the average person and now drop off meals to the doorstep of people I've never even met and I've been leaving food at their door for a year."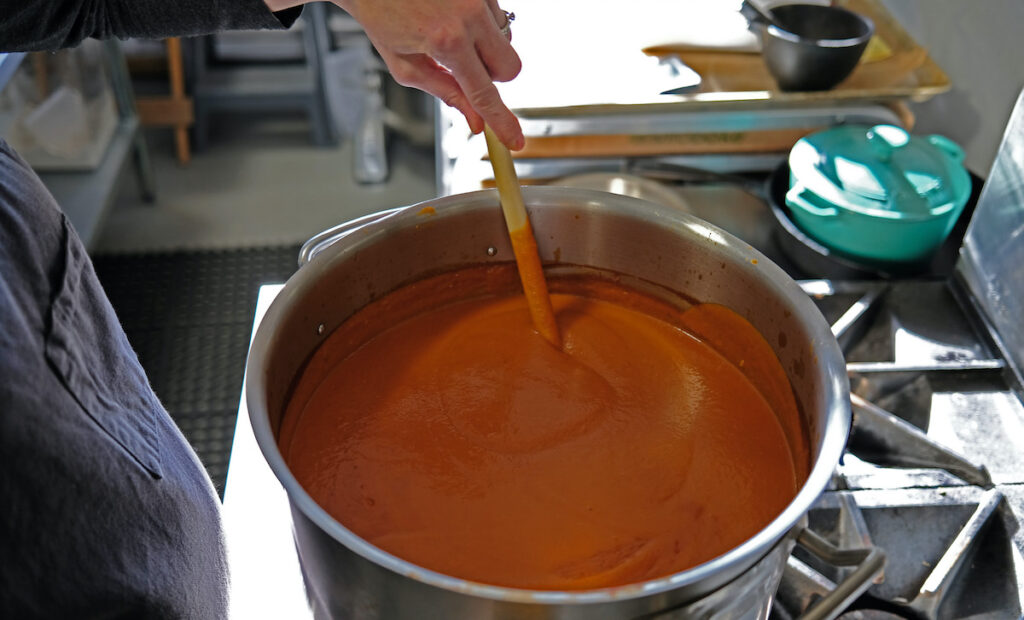 Riverside Kitchen is even gaining a following outside the Bulkley Valley, getting requests from as far away as Victoria from people wanting to purchase a dinner for a friend or family as a surprise, gifting them a deluxe meal that shows up right at their door.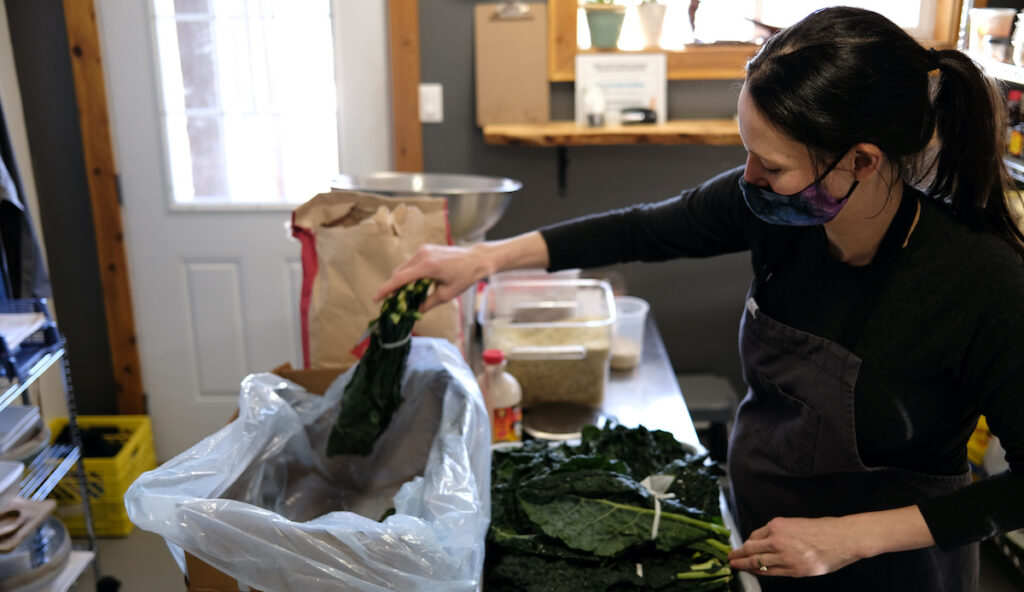 As the success of Riverside Kitchen continues to grow, Collins is excited about the future potential of the kitchen. Living in the Bulkley Valley with access to some of the best local meat and vegetables around, Collins is passionate about taking the perfect ingredients and turning them into something special that not only puts a smile on someone's face, but is different and exciting, a new offering for the people living within the Skeena.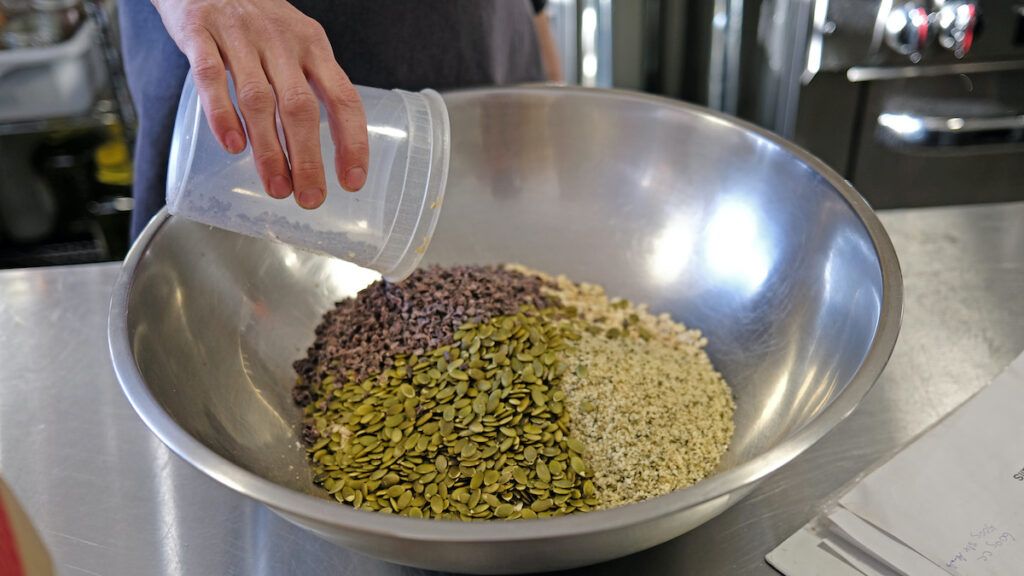 "I can create something new every day", says Collins. I'm not in a restaurant where I'm producing the same menu everyday and that's what drives me. It's always new, super refreshing, everyday is never the same here. We really care about what we're doing here and we hope people are seeing that in the food."