Back in March, Prince Rupert was one of the worst-hit communities for COVID in the entire province. But cases since then have plummeted, going from 117 weekly cases at the peak on the week of March 7-13, 2021 to only two cases in the last reporting period, April 18-24, 2021.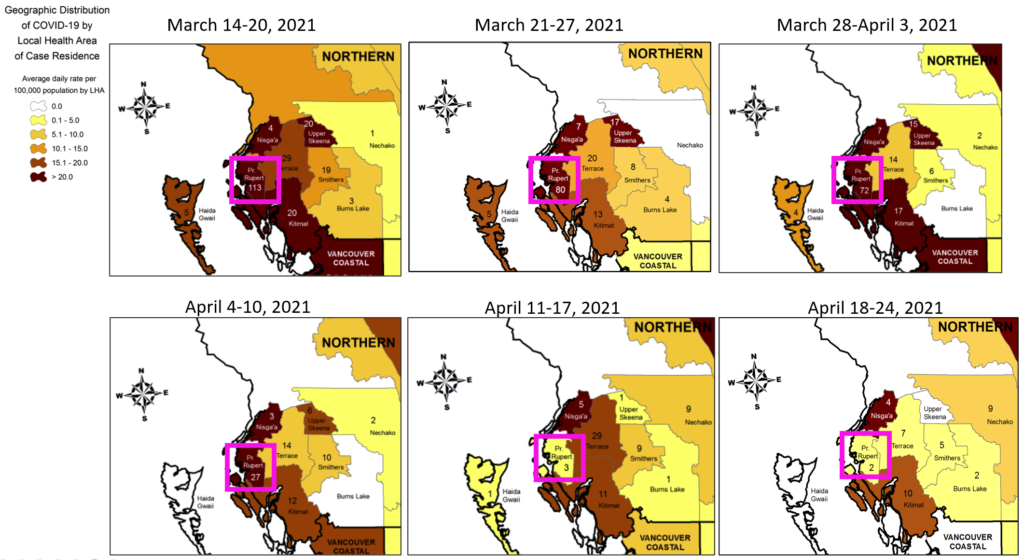 The reason for this success? The community rallied behind a mass vaccination plan.
That's the conclusion of local and national health experts who spoke at Skeena Strong's recent virtual event "Fighting COVID In The Skeena," which was focussed on variants and vaccines. Those experts now think Prince Rupert could be a success story studied across the province, and even the country.
"It's a huge success," Dr. Rakel Kling, a medical health officer with Northern Health, said during the event. "It really showed well that the vaccine is working."
Prince Rupert at first managed to avoid the worst of the pandemic. But in the spring, cases started surging, including an outbreak at the care home Acropolis Manor which resulted in more than a dozen deaths.
In response, the province announced that every single adult in the coastal city of 12,000 would be eligible to receive the vaccine. But for that to succeed, community members needed to actually show up. And luckily, that's exactly what happened.
Within a few weeks, about 90 percent of eligible people in Prince Rupert had received a shot and 70 percent of people within the greater Rupert area.
"Every walk of life was going down," explained Christine Smith-Martin, who helped host the Skeena Strong event. "I remember one of my aunts saying 'I'm going to round up all my kids and make sure they get down there to get their shots.'"
Ultimately it worked. Prince Rupert went from being a community "with the highest rate of COVID-19 to basically not having COVID at all," Kling said.
Despite some people having concerns about the safety of the vaccines, the side-effects people experienced were minor. They included headaches, some fatigue and a bit of soreness in their arms. Ultimately, experts at the event said, the trade-off was worth it.
"Getting the vaccine is getting us one step closer to that post COVID world that everyone wants," said Lindsay Dixon, a pharmacist and guest expert on the show. "Prince Rupert will hopefully not be the only success story."