Over the past few weeks there have been reports about people in the Skeena being mean and abusive to store workers when asked to take COVID seriously.
This has happened alongside small protests where anti-vaxxers take issue with the government's efforts to get everyone vaccinated and end the pandemic.
But Stikine MLA Nathan Cullen is unapologetic about BC's requirement that people be vaccinated before they can enter restaurants, bars, movie theatres and other businesses.
If someone has a problem with the policy, which goes into effect this week, "they can talk to me," Cullen says.
During a recent Skeena Strong event called "Fighting COVID In The Skeena", which you can watch in full here, the Smithers-based MLA said the government is trying to save lives and avoid another painful COVID lockdown.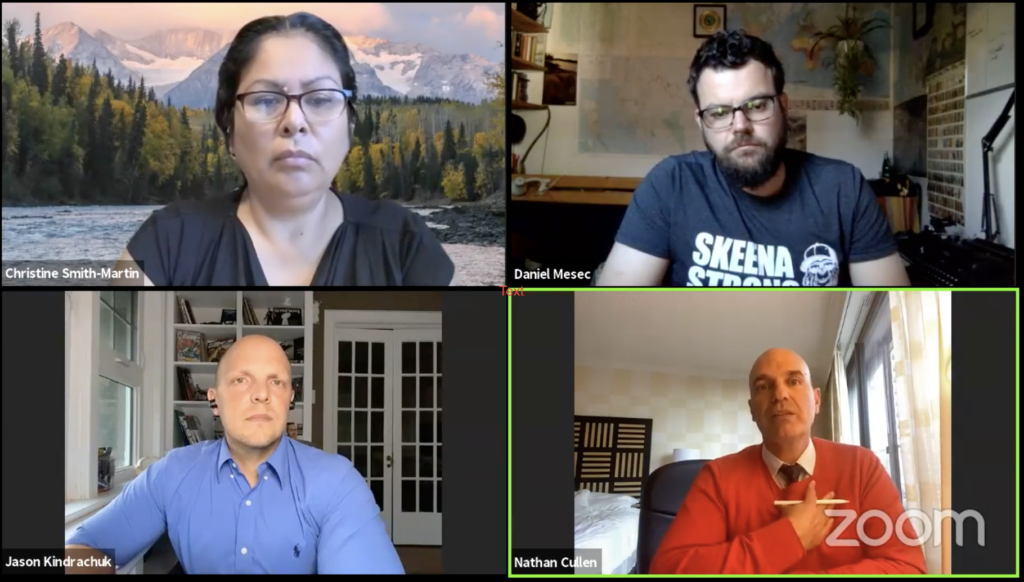 And he's more than happy to explain that to anyone who calls his office.
Here's what else the MLA had to say during the Skeena Strong event, during which he and COVID-19 Resources Canada experts Dr. Jason Kindrachuk and Dr. Krishana Sankar responded to a wide range of questions from Skeena locals about the BC Vaccine Card.
On why BC is bringing in a vaccine requirement this week
"The reasons for this are pretty straightforward. Our primary goal is to keep people safe. We also want to keep businesses open, because they're the lifeblood of many of our communities and we don't want to overwhelm the healthcare system, particularly our hospitals and ICU. Those are the priorities that we have in mind."
On why we need this policy even though lots of locals are vaccinated
"Some communities are very highly vaccinated. I'm thinking Kitimat and places like Prince Rupert and some subgroups of our population, particularly First Nations. But as a region and in certain places, we have very low vaccination rate and we're seeing the COVID case counts go up. People are ending up in hospital who are unvaccinated. Some people are calling this a pandemic of the unvaccinated, but it's not my favorite term because in a pandemic like this, I believe that we're all affected."
On how many businesses support what BC is doing
Some of the call for us to do this as a government came from the BC Chamber of Commerce, a number of our sports teams, arts groups and others, because they didn't want to be left with some kind of hodgepodge system where they had to invent rules as individual business owners. I know there's concerns from some of the business community, but ultimately we've seen what shutdowns look like. They're devastating, they're isolating, they're hard on our communities. We don't have to imagine it. We've experienced it and we're trying to avoid it."
On why he has no time for people abusing retail workers
"We had an incident in Smithers some months ago where somebody was being quite belligerent and aggressive towards staff at the local credit union. Taking it out on staff is incredibly misguided. If someone has a problem with the vaccine requirement that was issued by the public health order, they can talk to me, they can phone me, they can engage in these types of sessions instead yelling at some poor store clerk."
On the basic facts everyone should know about the vaccines
"People can have very strong passions and I want to respect those, but the facts are the facts. You're 12 times more likely to get COVID without a vaccine, you're 34 times more likely to end up hospitalized without a vaccine and you're eight times more likely to die without a vaccine, those are the facts."
On how this reminds him of debates about smoking
"I can remember when we, as a province, went through the smoking indoors debate as to whether you were allowed to smoke at bars. I can remember people saying, this is an infringement on their civil liberties. They want to be able to smoke."
"There was great doom and gloom that every bar and restaurant in British Columbia was going to go under. It was going to go bankrupt, ignoring the idea that there were many new people who might come to your restaurant and bar if they knew it wasn't filled with smoke, that they could bring their kids, that they themselves wouldn't smell like an ashtray afterwards."
On how he and anti-vax crowd actually share a similar goal
"The folks that are protesting at my office are worried that when we were in lockdown there was untold damage being done to us as a society. But having a lockdown is the exact same thing that we are trying to avoid with this vaccine requirement."