This is Trevor.
A few years ago Trevor Doerksen and his wife Breeann were deep into their careers, Trevor a bricklayer and Breeann a teacher. But then life diverted them to another path.
"Breeann started a hobby soap business," Trevor recalls, "and around that same time a friend of a friend asked us if we were interested in facilitating a beekeeping study in the local area."
The couple said "yes" to doing the study, and they were soon set up with some hives. The friend of a friend "sent over their brother who had run a pretty major operation in New Zealand. Over the course of three summers we had several New Zealand friends over, guiding us and saving us from making a bunch of mistakes early on."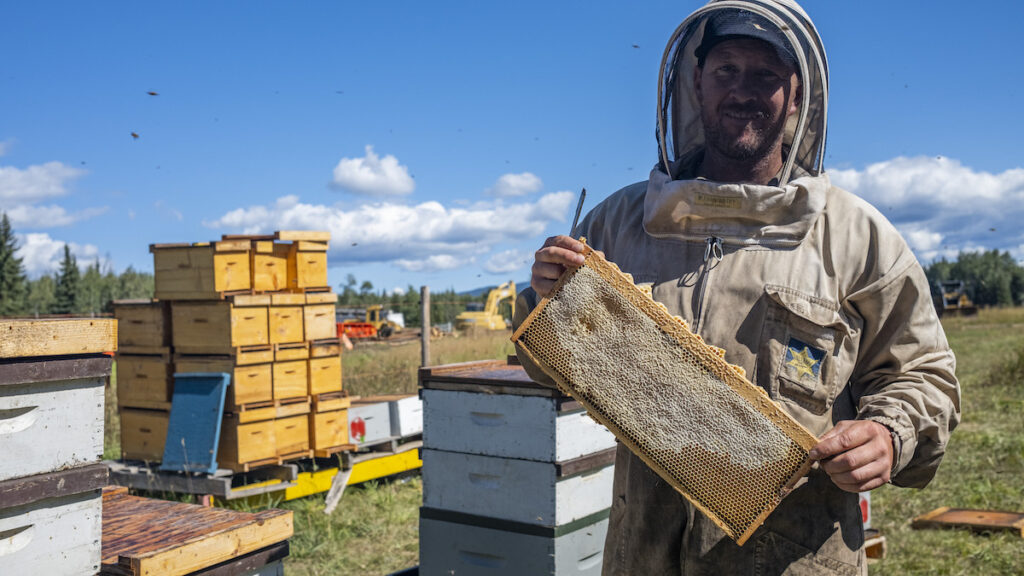 For years Trevor worked as a heavy-duty mason, primarily on sawmill shutdowns, surrounded by industrial noise and in one case breathing in styrene fumes all day. He came off the job and returned home to pop open one of the bee hives in the early days of the beekeeping study he was facilitating.
It was kind of an "aha" moment.
"I cracked the lid of the beehive and all I smelled was just honey wafting into my face and I thought, 'this is something,'" Trevor said.
Trevor explained that he and Breeann never imagined becoming purveyors of honey and bees. But once they got into it, the idea of creating something of their own and being responsible for an insect that is integral to the local ecosystem was incredibly fulfilling.
"And that led us here where now we have Bulkley Valley Hive & Honey, making local honey and local soaps," he said.
When they officially started the business three years ago, they had just a couple dozen hives. Now there are more than 150 hives at five different locations throughout the Valley, housing literally millions of bees throughout the summer.
You can buy Hive & Honey products all over B.C., including everything from bath and dish soaps to body oils, candles, lip balm, bath bombs and, of course, 100 percent pure Bulkley Valley honey.
What keeps Trevor and Breeann going is the community. "Some of the people I've met in the beekeeping industry they're in their 60s, 70s still doing it, loving it, they're healthy people. You're outside meeting farmers, interacting with them on their farms, helping people, working together. That's what I enjoy," he said.
On the final day of harvesting honey in early September, the process of removing bee hive boxes full of honey from the field and transporting them to the extraction facility, Trevor stresses that this is not an easier job than bricklaying.
He picks up about two dozen hives from one site just outside Telkwa, BC. The hives are very full and heavy, about 40-50 pounds each. Trevor stacks them onto his flatbed truck and lays down special lids on the remaining hives in preparation for winterization. This is one of the final sites he'll service as the season comes to a close.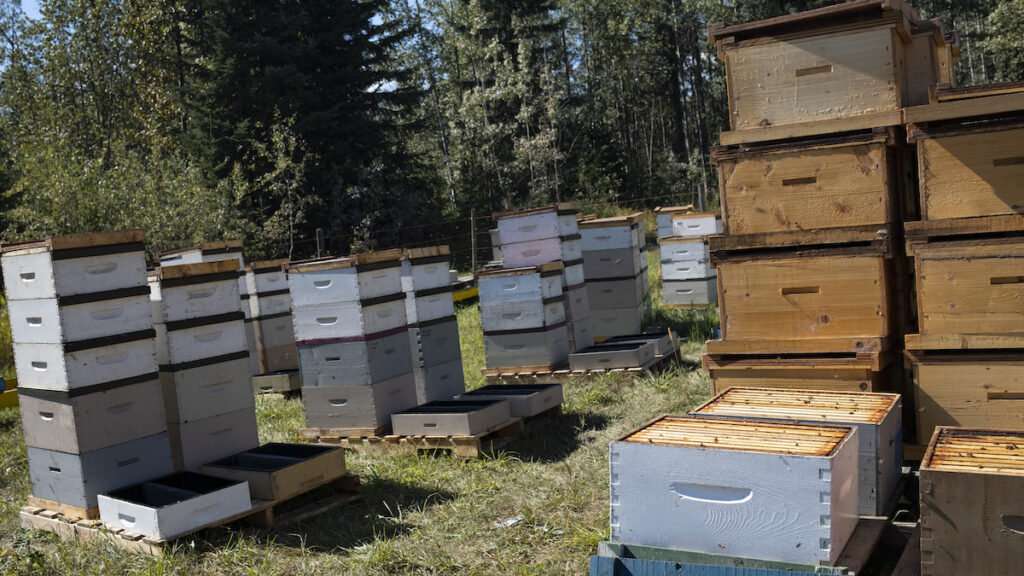 "A jar of honey gets handled by me probably ten times before it goes into the customer's hand," Trevor said. "So there is a lot of lifting and planning to make it a bit easier on yourself. In the end, honey is a good thing to be in the business of, because I think it's healthy and everyone enjoys it."
Beekeeping is not a regulated industry per se. However, those that keep bees are expected to register their hives with the provincial government to ensure that if there is an outbreak of disease at one location, other bee keepers in the area can be alerted. Trevor says this is no joke, if you want to get into beekeeping, you need to do your research.
There are over 450 native bee species in B.C. alone, 800 different species across Canada, 20,000 world-wide. But in some places bees are in decline, with several on the International Union for Conservation of Nature's Red List.
In Canada, 15 native bee species are listed as threatened, but only one, the rusty-patched bumble bee, is protected under the federal Species at Risk Act. Bees are critical to many ecosystems, especially in agricultural settings.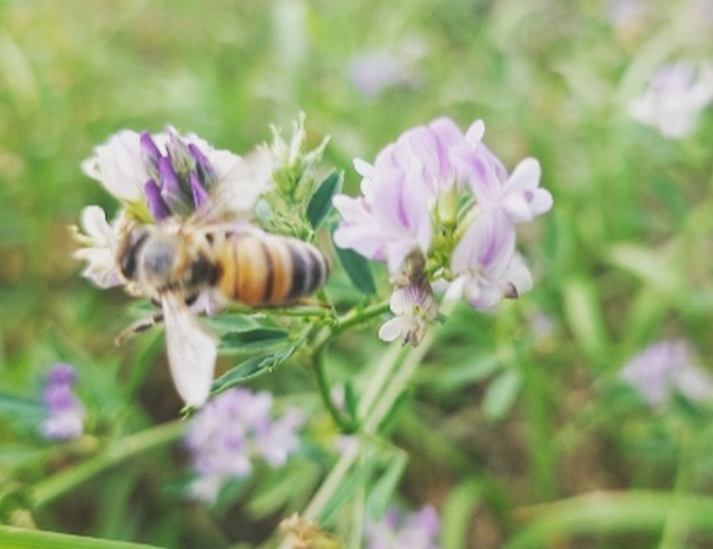 The Bulkley Valley has always been a hub for agriculture and in recent years, beekeeping has seen a slight surge with the formation of the Bulkley Valley Beekeepers Club and several producers marketing locally made honey.
"I think just driving around Woodmere road for the past five years I'm seeing more flowers just due to the fact that everything is getting pollinated that much more," Trevor said. "Or maybe it's because I notice it more. Like when the dandelions go off – I'm a skier, all I cared about before was powder days – now I get a rush seeing those fields full of dandelions, just like a 60 centimeter powder day for me."
Out of all the blends of honey that the Bulkley Valley has to offer, Trevor says there is nothing like the Mid-Summer Gold. Harvested at the height of the summer months with hints of fireweed, goldenrod, red clover and thistle, it's a unique taste that seems to be the benchmark and just one of the reasons why Hive and Honey continues to up their bee game.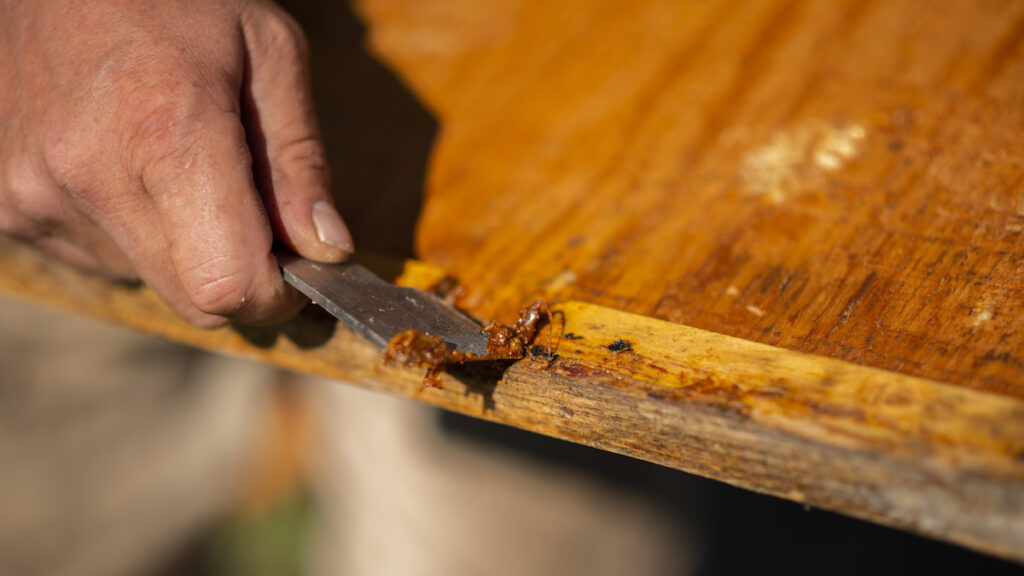 "It's amazing the support the Bulkley Valley and beyond has given us, the whole north really," Trevor said. "The products, people really believe in them, they're natural, they smell good, they taste good. And it's great to be able to make them locally and not have to ship it far and supply the local area. It started out with most of our friends buying them and now it's people we don't even know that are interested to meet us and see the face behind the products, and that's really cool."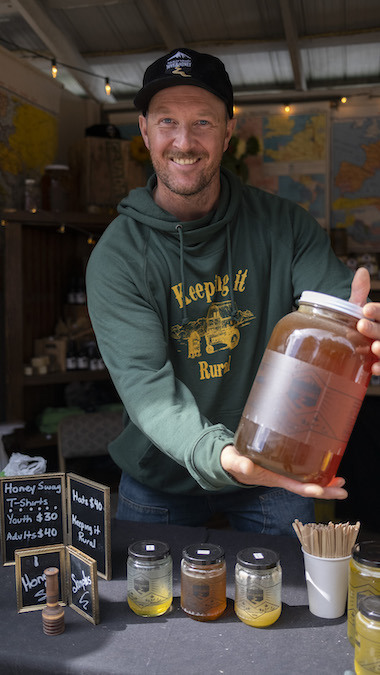 You can contact Bulkley Valley Hive & Honey or purchase their products by visiting their website: https://www.bulkleyvalleyhoney.com/. And here is their Instagram feed!